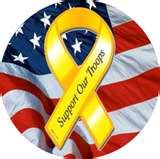 As we all enjoy a day off... please stop to remember the real reason we celebrate this holiday. Pray for the friends and families of those who did not return, as they remember their loved ones..... and say another prayer for those who await the return of a loved one.

This day has special meaning to me as I remember a dear friend from High School who was killed 8 short days after he was deployed to Iraq. 

RIP 

Pfc. Christopher T. Riviere
Please take a moment also to thank those who are currently serving in the military, and risk their lives every day for our freedom. 
I'd like to send a special thanks out to one of my best friends who has been active in the Marine Corp for a year now.
Thanks for all you do Melissa Ann!

And thank you to all of the other men and women out there who serve our country !!!!
As I was writing this post, I remembered something I used to do quite often, and have sadly neglected to do so for quite some time. Take a minute to click on the link below and send a post card to our troops, just to let them know you care. It's a really special program, and it only takes a minute. You don't have to write anything personal if you don't want, it just gives someone out there a reason to smile while they are away from their loved ones.